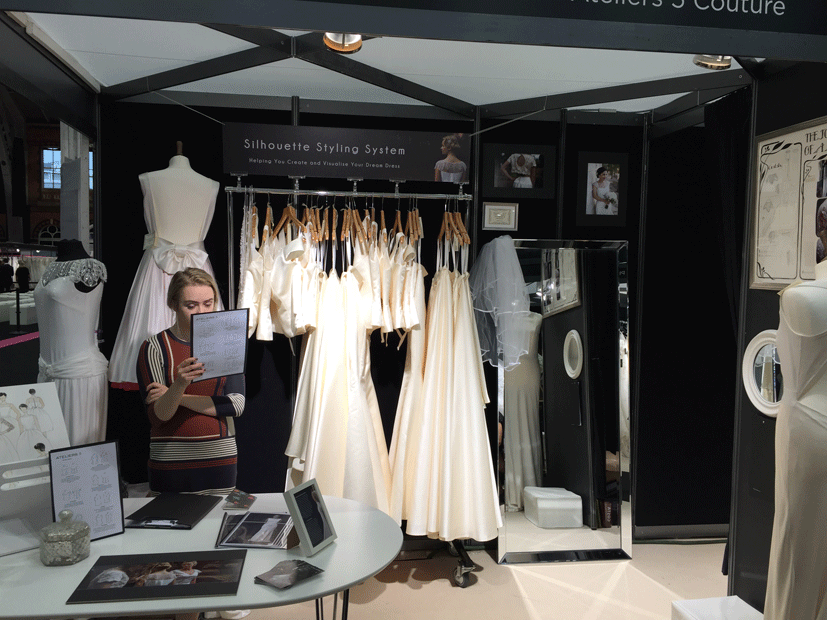 Last weekend, Atelier 5 had the pleasure to exhibit alongside hundreds of other exciting wedding suppliers, at the autumn National Wedding Show in Manchester. Set in the beautiful old train station now called Manchester Central Convention Complex (previously Manchester GMEX) with its vaulted arches and station clock, the exhibition welcomed thousands of visitors from the north west and beyond in the two days and showcased the latest trends in bridal wear, groomswear, bridal and wedding accessories, and everything wedding related!
Atelier 5 launched its new Silhouette Styling System at the show, with dozens of brides-to-be enjoying trials of the different bodices and skirts in different combinations. Our stand was the only place at the show where, if you were unsure of what suited you, you could see – without the influence of embellishments and too much detail – what overall shape suited you best. A comment we heard many times from brides-to-be (and other visitors to the show) was "Oh what a good idea!".
For those who didn't want to try on the day, they could also see the innovative concept on the stand, catch a glimpse of the trials, read our stand literature on bodice necklines and skirt shapes, or browse through our unique illustrative flip book.
If you are one of the visitors who tried the Silhouette Styling System and enjoyed it, why not leave a comment for us here?!
Click here to see our flip book on our Facebook page.
Email: yifan@atelier-5.co.uk
Telephone: 01244 639294
Atelier 5 makes bespoke and couture wedding dresses and occasion wear, including bridesmaids dresses, outfits for mothers-of-the-bride, girl grooms, prom gowns, evening wear, and everything that needs a personalised, special touch. Based in Chester, we also offer a mobile service within 40 miles of each location, or upon special request, further afield. Our unique Silhouette Styling System has been developed by Atelier 5 to help brides-to-be and ladies looking for something special, to visualise the best shapes suited for their silhouette.